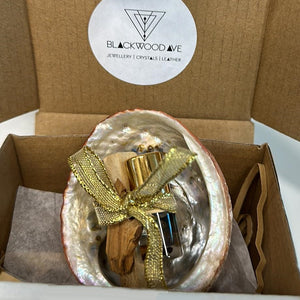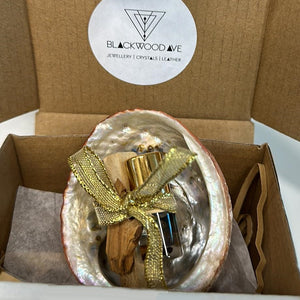 On Sale
Cleansing & Grounding Ritual Kit - Small
ALO SANTO, SAGE SMUDGE STICK, SELENITE, SMOKY QUARTZ CRYSTALS & LAVENDER WITH A SOUTH WEST ABALONE SHELL IN A BOX.

Cleanse your Aura & any space around the home or office with this Cleansing & Grounding Ritual Kit including Palo Santo Wood, Sandalwood, Smoky Quartz Crystal Point. These combined are very powerful & will clear any negative energies, ground you to the earth & purify the air to make you feel amazing.
Use these in a sacred cleansing ceremony as often as you need to for your Aura & living spaces.

Note: Each crystal & shell is individual having it's own unique beauty which means they vary in shape and colour tone.

PALO SANTO
Palo Santo means "holy wood" or "wood of the saints", is a mystical tree that grows on the coast of South America and is related to Frankincense, Myrrh, and Copal. Burning these sticks is a sacred practice used by Indigenous communities of the Andes to cleanse their space and ward off evil spirits.

Properties of Palo Santo wood: Raise vibration, cleansing, grounding, protection, peace, creativity, good fortune, connect to fire and earth elements.

Burn Palo Santo;
- to cleanse your personal auric field, your home or other space,
- to purify healing spaces or clear away unwanted energies during healing
- to bless and protect during spiritual rituals and ceremonies
- for energetically cleansing sacred objects, healing tools and crystals.

How to use Palo Santo: Light one end of the stick and allow it to burn for 30 seconds. The stick will go out of its own accord within 2 minutes. Never leave burning sticks unattended or place in a heatproof bowl to cool down after use.

Our Palo Santo has been sustainably sourced from Brazil.

SMOKY QUARTZ - The Grounding Crystal
PROTECTION | ROOT CHAKRA | CLEARING

Smoky Quartz is one of the most powerful grounding and clearing stones available with a strong link to the earth and base chakras. It cleanses and clears the aura and energetic systems, removing any negative energy and grounding it for reprocessing by our Mother Earth. It allows us to pause, relax, reflect and feel good about the future and ourselves. Use it during meditation to raise your vibration. It can dispel and protect you from negative energy creating balance in any space and revitalise your mind and body.

Chakras: Root, Earth Star
Cleanse: Salt Water
Charge: Earth

Smoky Quartz Crystals in this set are individual and have their own unique beauty which means they can vary in shape and colour tone than what is pictured.
SANDALWOOD
Sandalwood is known to provide grounding effects, which can make for a relaxing and restful environment. It has long been used to purify people from self-doubt and anxiety. Burn Sandalwood when you need to clean your space of negative energy and bring back a sense of compassion.

ESSENTIAL OIL ROLLER BLEND
Grounding & Cleansing Blend of Essential Oils infused with Clear Quartz Crystals & hand picked Lavender.

ABALONE SHELL
This abalone shell is sourced from local abalone divers in the South West & Great Southern region of Western Australia.