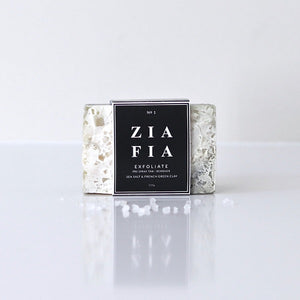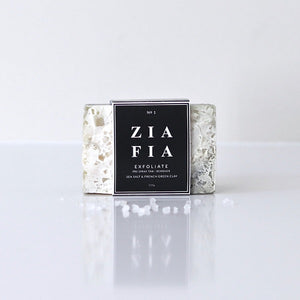 On Sale
Zia Fia - No.01 Pumice, Sea Salt & French Green Clay Exfoliating Body Bar
This 100% natural body bar combines the calming, cleansing powers of french green clay, coconut oil and cocoa butter with real pumice to create an exfoliating bar that will banish stubborn dry skin while moisturising at the same time!

The pure peppermint essential oil helps to calm during exfoliation to reveal beautiful soft skin.

And if you like to fake tan every now and then, this beautiful bar was specially formulated by an ex-pro spray tanner to effectively remove any fake tan residue from heels, knees and other hard-to-remove areas!

Each bar is individually hand made by an artisan in Perth using a unique and complex recipe to ensure the natural properties of each ingredient are preserved. Each bar is unique and will look slightly different due to the hand-made artisan process of creating each bar.

Every Bar is created with:

NO Parabens
NO Mineral Oil
NO SLS' or SLES'
NO Sulphates
NO artificial fragrances
100% Vegan Formula
Handmade in Western Australia
Each 135g Bar contains: Saponified Oils of Rice Bran, Palm (sustainable), Coconut, Olive, Cocoa Butter, Essential oil of Peppermint, French Green Clay, Pumice, Rock Salt
DIRECTIONS: PLEASE BE CAREFUL - THIS PRODUCT CONTAINS NATURAL PUMICE, USE GENTLY IN SHOWER ON WET SKIN TO REMOVE DRY & DEAD SKIN. LATHER WELL UNDER RUNNING WATER FIRST.