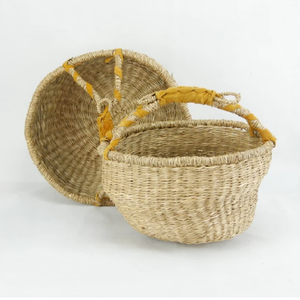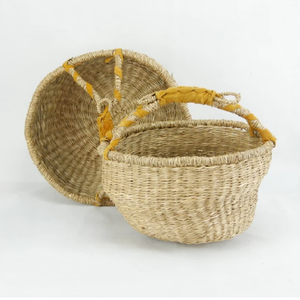 On Sale
Medium Round Basket Natural
Medium Round Baskets in Natural with Suede Leather covered handles.

Beautiful Natural Medium Round Bolga Baskets for Shopping, Market, Interior decor or Merchandising.
Diameter: 35 x H17cm
These products are handcrafted at village level in Northern Vietnam allowing income into rural communities where employment opportunity is minimal.
This products is entirely natural and organic, grown eco-sustainably.
Seagrass is grown as a crop and is harvested three times each year while Water Hyacinth is harvested from inland waterways where they grow prolifically to pest level.
Our baskets are made very strong, will last indefinitely and at the end of their useful life will break down organically in a few months, unlike plastic bags. Do not be fooled by so called "green" and "Eco" bags, if they are not completely natural and organic they will be around for many lifetimes to come.
In the case of both Seagrass and Water Hyacinth the best way to get baskets into shape is to use them.