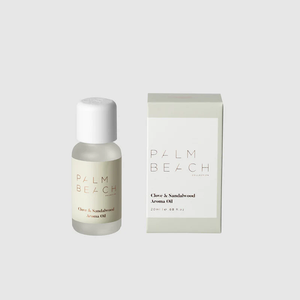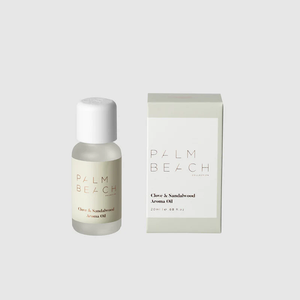 On Sale
Palm Beach Clove and Sandalwood Aroma Oil
Earthy and Luxe. Heady notes of Jasmine at the heart develop into a rich woody base. The ultimate blend of rich spices and masculine tones.
Ignite your senses and create the space you desire with our collection of Australian Made Aroma Oils. Our Aroma Oils contain ingredients that are 100% biorenewable, biodegradable and biocompatible, and derived from botanical sources. Add a few drops to your Ceramic Oil Burner or Aromatherapy Diffuser and bask in the notes of our best selling core fragrances. Our Aroma Oils are designed for pure indulgence.

Contains: Cedarwood, Orange, Lemon, Elemi and Patchouli Essential Oils.
20ml Bottle